20 Christmas Mason Jar Projects
As an Amazon Associate, I earn from qualifying purchases. This post may contain affiliate links. See our full disclosure here.
There are so many uses for mason jars that don't include canning or preserves, and with Christmas right around the corner, it's time to think of some festive ways to use these versatile glass kitchen storage items to create Christmas mason jar projects.
You can make mason jar crafts with the one or two jars you probably have lying around your house – turn them into lighting for your home, holiday decor or mason jars gifts for friends and family, plus so much more. To help get your creative juices flowing, we have rounded up a collection of 20 Christmas Mason Jar Projects for you to try this holiday season. Happy crafting!
20 Unique Mason Jar DIY and Craft Projects for Christmas
I included links to the tutorial or inspiration for each of these projects so you can make your own Christmas mason jar crafts! Even if it's not quite the holidays yet, it's a great idea to get started making Christmas crafts and DIY gifts early. That way you can relax and enjoy the holidays when they come around.
DIY Peppermint Candle Mason Jars
Craft these DIY Peppermint Mason Jar Soy Candles for your holiday decor. Or gift them to your candle loving friends! Get the tutorial at A Pumpkin & A Princess.
Snowy Christmas and Winter Mason Jar Decorations
Decorate your mantle, sunroom or dining room table with these wintery faux Snowy Mason Jars. Get the tutorial from A Pumpkin & A Princess.
Vintage Silver DIY Mason Jar Decor
Give your holiday a classic vintage look with these DIY Mercury Glass Mason Jars, featuring silver bells. Get the tutorial from A Night Owl Blog.
Christmas Scene Silhouette Mason Jar DIY Inspiration
This simple silhouette craft can be made with mason jars of any size. Plus they give your home a warm and cozy feeling. Get the tutorial for these Magical Christmas Lanterns from Adventures In A Box.
Mason Jar with Christmas Lights Homemade Decoration
Add some twinkly lights to mason jars for some luminous outdoor lighting on your porch. Get the tutorial for these DIY Mason Jar Lights from All Things Heart & Home.
Candy Filled Mason Jar Craft for Christmas
How easy are these!? Candy canes and mason jars are the child's play of holiday decor – get the tutorial for these Christmas Mason Jar Candy Cane Decor from Cherished Bliss.
DIY Festive Mason Jar Wrapping Paper
Isn't this Snowman Mason Jar themed gift wrap adorable?! This is the perfect festive craft project wrapping up all your homemade gifts for family and friends. Get the tutorial from Color Made Happy.
Christmas Tree Mason Jar Soap Dispenser Decor
I am in love with this adorable Snow Globe Soap Pump, and I cannot wait to add it to my bathroom holiday decor! Get the tutorial from Creative Green Living.
Colorful Painted Mason Jar Christmas Vases
Change up the colour on these Mason Jar Christmas to match any decor and create a one-of-a-kind gift. Get the tutorial from Design Improvised.
Kid Friendly Christmas Glitter Mason Jar Craft Idea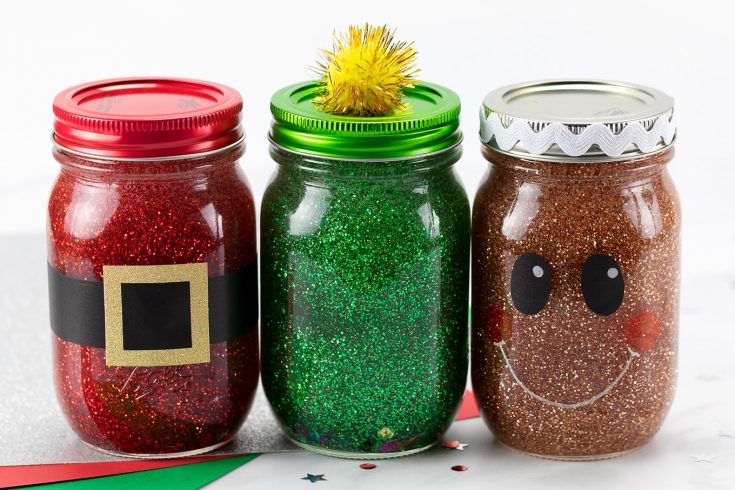 Get the kids to help with this craft project – made with mason jars, glitter and a few craft supplies. These Christmas mason jars are not only cute, but the swirly glitter can be very calming for little ones too. Get the tutorial for these Christmas Glitter Jars from Fireflies and Mud Pies.
Holiday Scented Mason Jar Oil Candle Lamp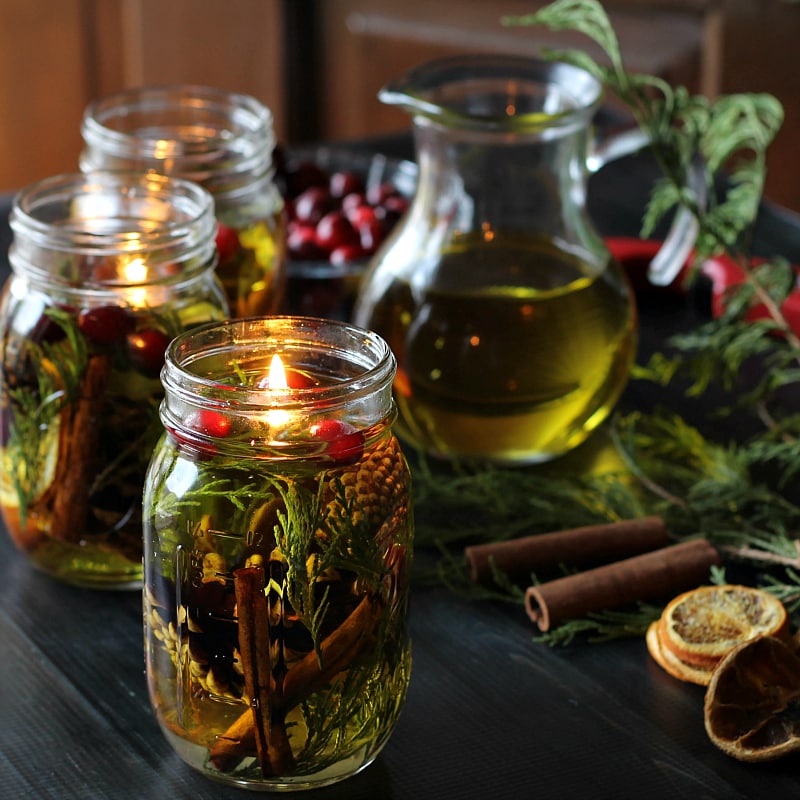 Create a majestic Mason Jar Oil Candle Lamp with just a few things you can find in your backyard and other natural elements fused with essential oils. Get the tutorial from Hearth & Vine.
Mason Jar Snow Globe Craft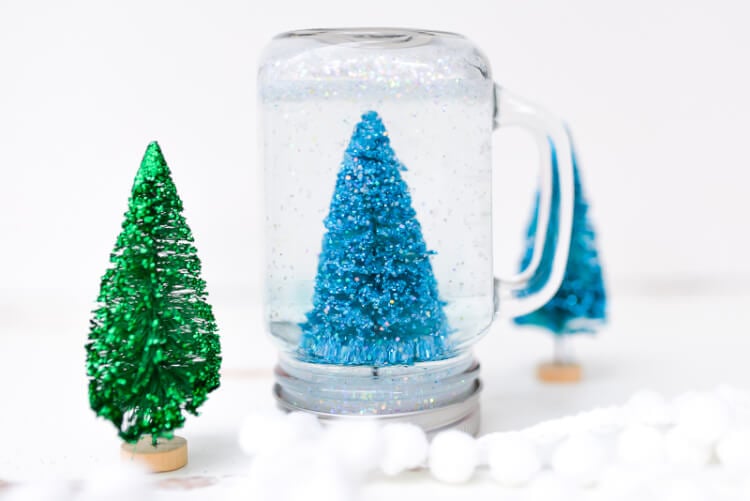 Dreaming of a white Christmas this year? This Glittery Mason Jar Snow Globe just needs a little shake for that holiday wish to come true! Get the tutorial from Hey Let's Make Stuff.
Santa Mason Jar Decorative Glasses
If you're throwing a Christmas party this year you are going to want to make these adorable, yet, super easy Mason Jar Santa Suit Cozies for your partygoers! Get the tutorial from Mason Jar Crafts.
Christmas DIY Candy Holder Painted Gift
There's just something about ugly Christmas sweaters that are so stinkin' cute, am I right?! The classic Christmas novelty is even better if there is chocolate involved! Get the tutorial for these Ugly Christmas Sweater Mason Jars from Mason Jar Crafts.
Painted Santa Mason Jar
Get the kids to help decorate your home with this easy mason jar Christmas craft or fill it with treats for a fun homemade gift. Get the tutorial to make Santa, Frosty or Rudolph from Messy Little Monster.
'HOME' Decor Idea for the Holidays Made From Mason Jars
Make your home feel welcoming with this Pretty Mason Jar Christmas Centerpiece – perfect for your kitchen, mantle or entryway. Get the tutorial from Our Crafty Mom.
Homemade Sugar Scrub Packaging Idea
With only 3 ingredients this Peppermint Sugar Scrub makes a wonderful handmade gift that will leave your recipient's skin feeling soft and silky. Get the tutorial from Skip To My Lou.
Snowflake Painted Mason Jar
This distressed Stamped Snowflake Mason Jar Luminary will add an appealing rustic charm to your holiday decor. Get the tutorial from Sprinkled & Painted at KA Styles.co.